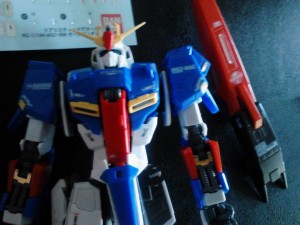 So, since my last Gundam post, I managed to utterly shatter the Zeta's hip joint after dropping it while applying the "realistic" decals. After about a day's worth of repair attempts, I wound up caving (after a few days dwelling on it) and buying a second RG Zeta, bent on doing this one "right." I took my time and really made sure everything fit as snug as it could while applying the stickers as I went, since putting them on at the end was both awkward and what lead to my little mishap. Zeta Number Two went off without a hitch, even though I did cheat a little by borrowing parts from the first one (just the head because the eye sticker cooperated a lot better the first time and the accessories as a temporary measure before I redo them up to more careful standards. I just really wanted to show off early.
That said, as much as I love ogling mech models and building them, I'm not a master builder by far, I pretty much just snap and go with a bare minimum of tools on the side, an exacto, some clippers and a file. I don't really mind leaving the original finish on my kits since I kind of like them to stay a little toy-like. I should get some markers or learn a little finesse with a brush, because the decals with this kit felt like they exist to punish a guy for not doing things the hard way- they're not quite transparent on the colored portions, but it's not too noticeable unless you're right up in there, and worse, some cover up molded in details. They don't look bad if you follow up by pressing in along the panel lines with a toothpick afterwards, as they conform to the surface well, but I still imagine they'd look better actually painted in. Maybe next time. Then again, I almost prefer the clean, more anime look it gets without decals period. I more than likely won't bother with using the whole sheet again at any rate, since while I like the extra stripes and trim lines, the random too-tiny-to-read warning labels around basically every joint don't do much for me, and I'm not the biggest fan of the ver. Katoki-ish "let's stamp the mech's name and serial number all over it" treatment. I've seen worse by far, but the larger decals on the main back booster and shield cover up a lot of panel lines and don't manage conform down into them as well as the smaller ones elsewhere.
Currently I'm displaying it in Wave Rider mode, which holds together impressively well considering how the thing looks. The weakest link is probably the struts connecting it to the back, which frankly don't do all that much once you have the wing binders clipped into the sides of the shield. They're made of the softer plastic that the internal skeleton is made out of, which doesn't like to stay put in either mode, but has backup tabs to rely on. It's probably for the best they remove easily though since it's easier than managing the 'canon' wraparound motion. I can take or leave the rifle resting across the top of the machine, it doesn't disrupt the look too badly, but it still juts out similarly to all those old Transformers who had a 'battle mode' consisting of a car with a pistol tied to the roof. Also, it's not super apparent just looking at it, but the legs are actually pretty secure rather than dangling loose like it appears, since the front hip armor is snugged into notched in the wing armor.
As mentioned before, the wing armor and rifle are borrowed from my broken kit and don't have all their stickers applied yet, though that mostly means that it's just missing a bunch of white accent lines along the red wing edge.
Even with my fuck up, I totally loved building my first Real Grade kit. I'd love to do another some time, though the selection is kind of limited and the Zeta seems to be the only transforming MS in the lineup. Maybe I'll shoot for a Valkyrie model next time. I think I may take some pics and comment as I go along on my next build, for the hell of it. This one was especially fun since the internal skeleton you build around is more than just a gimmick like I expected hearing about Master Grades from friends, it makes the final product feel a lot more solid and stable when it's done. You're still not going to treat the thing like an action figure, but the fact that it isn't hollow somehow leads to an overall more satisfying piece, and much like how I loved the D Style line, the fact it retains its transformation ability is a big selling point for me.
You can find your own RG Zeta for about 30 bucks on Amazon. I guess another perk of Gundam kits is they're easy to come by and pretty affordable overall.