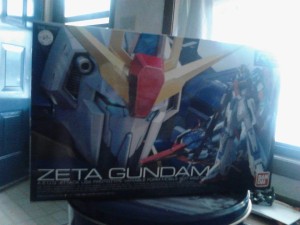 And now, for something completely different.
I finished assembling my RG Zeta today! Haven't tested the transformation or applied the decals yet, then again I'm not super huge on the "Katoki went nuts with the label maker" tampos everywhere look so I may leave it minimal or bare and just enjoy all that blue.
This was actually my first non-HG Gundam kit, these days I've mainly been building D Style chibi mecha and in the past I did my share of Gundam Wing stuff. I love the stability of the inner skeleton compared to all the hollow portions of the other kits, though the left hip on Zeta is already getting a little saggy, so I hope the skeleton (which was largely pre assembled) joints don't wear out too fast.
In any case I probably won't move it around too much until my stand shows up in like another month thanks to buying it from a different seller. Furg.